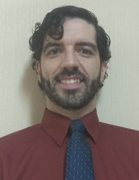 Andrés Tutor de Ureta
Profesor Asociado. Departamento de Filosofía.
Asignaturas impartidas
Lógica de la Argumentación
Líneas de investigación
Filosofía política contemporánea

Pluralismo de valores y relativismo cultural

Racionalidad y argumentación

Violencia y poder político
Publicaciones más relevantes
"Pluralismo sin Relativismo. Una propuesta alternativa al modelo de Isaiah Berlin." Revista de Estudios Políticos, nº 184: 13-40. 2019.

"Incompatibility, Incommensurability and Rationality in Value Pluralism. Isaiah Berlin's Case." European Legacy: Toward New Paradigms. Vol 24 (2), 146-161. 2019.

"Isaiah Berlin on Positive Freedom." International Philosophical Quarterly. Vol 58 (4), 407-422. 2018.

"George Santayana on Pluralism, Relativism and Rationality." En Padron, Ch. and Skowroński, K. P. (eds.) The Life of Reason in the Age of Terrorism. Leiden: Brill, 214-226. 2018.